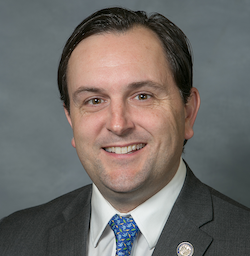 Rob Bryan is the Chief Legal Officer for Starmount Healthcare Management.
Background
Bryan was born in Raleigh, North Carolina, the son of Robert P. Bryan, Jr., an engineer, and Anita Rutland Bryan, a public school teacher. He was the oldest child with one younger sister, Melissa Bryan Kruger, author of The Envy of Eve: Finding Contentment in a Covetous World and Walking with God in the Season of Motherhood.
In 1989, after graduating from Sanderson High School, Bryan attended the University of North Carolina at Chapel Hill where he earned a B.A. in History with distinction in 1993. While attending UNC, Bryan was inducted into the Phi Eta Sigma honor society and was in the Lambda Chi Alpha fraternity, where he served as an officer. He also served as President of InterVarsity Christian Fellowship and was involved in student government.
After graduating with distinction in 1993, Bryan applied for, and was accepted into, the fourth corps of Teach For America, as part of the effort to grow and strengthen the movement for educational equity and excellence. Bryan spent the next two years teaching second and third grade in a bi-lingual classroom at Abbott Elementary School in Lynwood, California. During the summer between his two years teaching, Bryan was the first intern at the Center for Education Reform in Washington,
D.C.
Following his time teaching, Bryan returned to North Carolina and enrolled at the Duke University School of Law, where he graduated with honors in 1998. During the summer of 1997, Bryan served as a summer associate at the firm of Melveny & Myers, LLP in Los Angeles, California. Additionally, he spent a semester abroad at Pontifical Catholic University of Chile in Santiago, Chile.
Bryan was admitted to the North Carolina State Bar in 1998 and began work as an associate at the Charlotte office of K&L Gates. He later served as special counsel in the Charlotte office of Parker Poe Adams & Bernstein. In 2006, Bryan joined the Charlotte office of Womble Bond Dickinson, the largest law firm in North Carolina. At Womble Carlyle, Bryan was a partner in the Real Estate Development Practice Group and served as a member of the firm's recruiting committee.
Bryan has received numerous awards for his legal work including being awarded the Business Leaders Magazine's "Movers and Shakers" award in 2008, being named to Charlotte Business Journal's "40 Under 40" list in 2009, and being named a North Carolina Super Lawyers "Rising Star" from 2009-2011.
Bryan has maintained an active local profile in both political and civic service. He served as treasurer of Ruth Samuels' campaign for Mecklenburg County Commissioner in 2000. He was also a member of the Mecklenburg County Republican Party's Executive Committee in 2003, and Chairman of the Mecklenburg County Republican Party from 2009 to 2011.